Motor Bebek Termahal di Indonesia Naik Harga, Jadi Berapa ya?
Posted: Wed, 12 Jun 2019 12:53 +0700
TERKINI –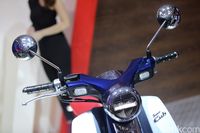 Harga motor bebek termahal di Indonesia naik. Saat peluncuran Honda Super Cub C125 dibanderol Rp 55 juta, sekarang harganya berapa ya?
Leave a Reply
You must be logged in to post a comment.