20.000 Ton Beras Bulog Terancam Busuk, Mau Diapakan?
Posted: Tue, 3 Dec 2019 02:15 +0700
TERKINI –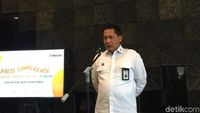 Direktur Utama Perum Bulog Budi Waseso (Buwas) menegaskan bahwa 20.000 ton beras yang turun mutu atau terancam busuk tak dibuang begitu saja.
Leave a Reply
You must be logged in to post a comment.