Apa Kata Gibran Andai Lawan Kotak Kosong di Pilkada Solo?
Posted: Wed, 12 Aug 2020 10:19 +0700
TERKINI –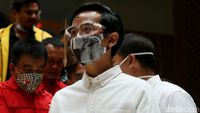 Bakal Calon Walikota Solo Gibran Rakabuming Raka berkomentar terkait gerakan menangkan kotak kosong. Menurutnya masih ada calon independen yang berjuang.
Leave a Reply
You must be logged in to post a comment.